2d – Lift
Lift is the upward force created by the effect of airflow as it passes over and under the wings.
Lift counters the weight force that is holding the aircraft down.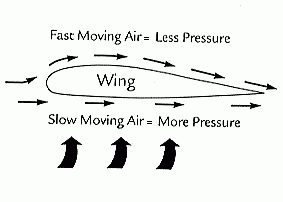 Source: quest.nasa.gov
Wings create a low pressure region (=pulling) on the top and a high pressure region (=pushing) on the bottom surface (compared to ambient pressure). In total, this creates a force in upward direction
Air flows from the right to the left.
Lift is related to the square of the speed (L ~ V²) and to the angle of attack, which is the direction of the flow. The more the flow comes from the bottom, the higher the lift is!