Colombia 2013
Why is Fly Beyond Dreams going to Colombia ?
After our success in Nepal, Abhinav's home-country, FbD decided to go and spread the word in Colombia, Cesar's home-country. By using Cesar's personal network and experiences in his country, we are assuring success on getting to the children of Colombia and spreading FbD message. The itinerary is still under discussion and will depend on the schools and institutions welcoming us. The preliminary itinerary has been defined as follows: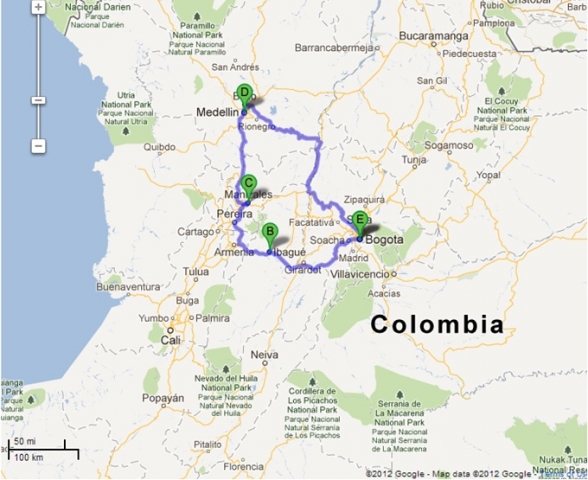 In each city, we will gather with the children in special locations like farms, libraries or even airports. Contacts with different Colombian entities are on its way in order to finalize the organization of each event.
The children's target group is in the age between the 12 and 18 years old. At this age, kids are starting to think about a future career. Opening the doors of education to the children avoids critical problems on society like drugs and violence. FbD is a great platform for Colombian children to see and experience new perspectives of education that can help them to take the best decisions in their future careers.
We are also planning on visiting the local Aerospace Universities with the idea of sharing experiences and lessons learnt with the Aerospace Engineer students. At the end, we would like to create a win-win situation in which FbD gets the involvement of the engineering students in our project locally in Colombia, and the engineering students start building up a Professional network with us representing the European Aerospace Industry. This situation could be further developed in many interesting projects for our industry such as Talent acquisition in the times where diversity is a huge asset for recruitment.
—————– To summarize in a few bullet point ——————————————————————–
What are we doing in Colombia?
– On-site classes and activities with the children teaching them how airplanes fly.
– Involve other stakeholders in the project such as local universities or local industry that can give us support on the project.
– Establish the basics for a strong network in between FbD, Colombian Children and Colombian Engineering Students
What do we want to achieve in Colombia?
– We want to motivate Colombian childhood to follow a career path and promote scientific studies in Colombia.
– We will create the initiative or starting point of a final goal of achieving a self sustainable project in which older local generations support younger generations to follow and improve their footprint in society.
You want to know more? Go to our Project Blog