[Nepal 2016] Overview of our unforgettable journey in Nepal!
Hi Dreamers and Supporters!
We are back from Nepal where we had an amazing experience with the children from Maya Universe Academy and Bloom School. We also managed to meet with a few local airlines to share with them Fly beyond Dreams' mission and on-board them on the Nepal project with us. They were all very keen to hear how enthusiastic the kids are every time we visit them and how much interest they show in aviation! Goma Air CEO even came with us to visit Maya school on our last day there and became very impressed with Maya's education philosophy and community.
22nd Nov: Bloom School – Patan, Nepal
It was a one full and very active day at Bloom School, teaching kids from 6 to 16 years old about aviation, how airplanes fly, which are the different manoeuvres of a plane and many other concepts.  All that supported by real-time demonstrations of flight with both our remote control plane and quadcopter. These two are equipped with cameras that allowed everyone to see their school and classmates from the sky! This part was especially enjoyed by the kids, who were able to play with the Virtual Reality glasses to follow the movements of the plane.
23rd-26th Nov: Maya Universe Academy –  Byas, Nepal
We had a lot of fun in Maya School, the now more than 250 kids have grown and progressed so much since the last time we came! We enjoyed 3 days altogether while teaching and again applying the concepts learned using the remote control plane and quadcopter. With the older children (12-13 years old), we were able to go much deeper this time into some aeronautics and physics principles, which really caught their attention – and in fact they threw some challenging questions at us to answer!
While many are dreaming to become pilots or engineers, among other professions, Goma Air's CEO, chief pilot and chief engineer came to share some insights on their jobs and describe their first-hand experience on how the company was created 2 years ago and currently operates 2 aircraft. Certainly an inspiring speech for the kids and a great testimony of how people succeed when studying and working hard!
On the last day we took more than 80 kids to Pokhara Airport, a 2-hour drive from the school, and had a tour of this small airport, check-in counters, security control and live demonstrations of how an airplane is operated in the apron, taxiway and runway. We ended the visit enjoying lunch with them in the terrace while watching planes take off and land. They were all very excited about this trip altogether, for which our backers are to be thanked!
The last days of the project were entirely dedicated to meeting with Goma Air, Nepal Airlines and Buddha Air representatives in Kathmandu. The airlines understand the need for supporting Nepalese kids, especially the ones with interests in technical fields, such as engineering, mechanics or electrics. One of the most important outcomes of these discussions was the agreement to offer a few end-of-studies internships and to collaborate more with us in introducing motivated kids into the Nepalese aviation world.
Overall this mission has been a successful step forward for Fly beyond Dreams' project in Nepal. On the last evening we had the pleasure of enjoying a nice dinner with our local partners from Maya, Bloom, Goma Air and Shikhar Insurance, further strengthening our relationship for future endeavours!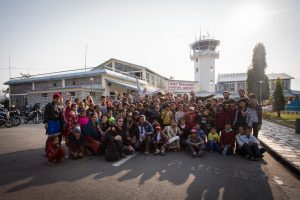 Thanks again to all of you who made this adventure possible!
Abhinav, Askold, Joana, Nathalie and Rafael