[Nepal 2013] Friday 22nd of November – Bloom Academy Day 2
After the enthusiasm the flying lessons provoked on the students as well as on the teachers, the FbD Team meets the class, along with Ram, at Kathmandu Tribhuvan International Airport.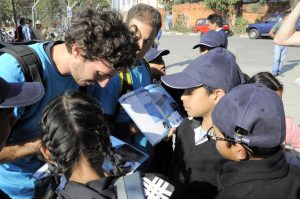 Very quickly, members of the team start teaching on the spot, as aircrafts on the tarmac being serviced were directly in sight. A quick overlook of what an airport is made of _ control tower, runway, taxiway, apron, etc. _ with the support both of the surroundings and of the EADS Flight Book is an occasion to get directly into the topic, whilst connecting with the theory from the previous day.
Using the airliners as examples at hand, the team makes the students revise a bit of what has been seen on Thursday: forces applying on the aircraft, controls of an aircraft, etc., and complete the lesson with the operation of commercial aircrafts: flight routes, control tower, approach, and so on.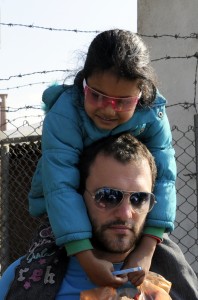 The second part of the afternoon is spent learning about maintenance: the students and members of the team being kindly allowed to give aircrafts being in the maintenance workshop a very close look, close enough for the children to touch the aircrafts, to their delight ! Three Twin Otters and one B757 from Nepal Airlines are thus scrutinized by the group and explanations provided by a flight controller from Kathmandu Airport, while a few helicopters taking off and being operated nearby give the team a further chance of checking what the kids remembered from their lessons about helicopters from the previous day J.
The overview of the various airport functions involved in the operation of aircrafts being complete, everyone goes back to the school, where the closing speech of the Fly Beyond Dreams team uplifts the spirit of the kids. Last but not least, the whole of the team awarded each of the children a namely certificate for their attendance to their theoretical classes and for their flight instruction !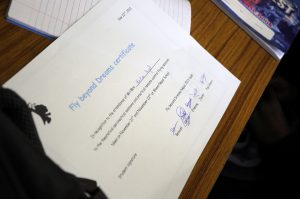 This last day of school in Kathmandu concludes a very successful Fly Beyond Dreams project in Nepal, for the schools, for the teams, and first of all for the children.