[Nepal 2013] Wednesday 13th of November – Second day of classes at Maya Universe Academy
After recharging our batteries while spending a day with the children from Maya at a local festival in 'Boktipana', we were ready to start the second class day in the school. This time the lesson was addressed to the Simba class, made of younger kids. We were surprised again by the reactiveness and participation of the children, whom contributed to the fluency of the activities.
At noon, both Tiger and Simba classes attended the closing speech of Fly beyond Dreams activities in the main playground; their interest was noticeable and we are convinced that the message arrived to their hearts thanks to the translation from Manjil.
"If you talk to a man in a language he understands that goes to his head. If you talk to him in his language that goes to his heart" Nelson Mandela
In the afternoon, after spending four wonderful days, it was time to leave Maya Universe Academy. We heard a lot of "sir, don't go", "sir, stay until tomorrow please" or "stay a bit more please", which made of it a touchy moment.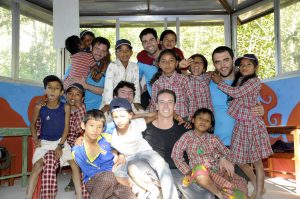 It has been a great time shared with the children, their parents, and the teachers at the school. We are more than thankful to Manjil, Yunn, and the rest of the Maya community which made it possible.
See you soon, Maya!