[Nepal 2013] Tuesday 12th of November – First day of classes at Maya Universe Academy
Here is our first day of class; we started by a little bit of theory. We wanted them to respond to those 3 questions:
What is an airplane?
How an airplane flies?
What are the four forces acting on an airplane?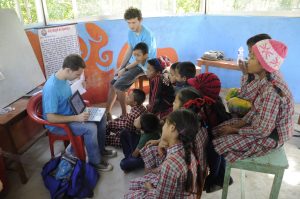 We all were delighted by the capacities of the kids to understand and remember! They fully understood everything but also they were capable to explain it to the others students during on the afternoon…
On the afternoon we performed the flight of the Radio-controlled plane. According to the smiles and excitement of the kids it was a success. Every one of the kids has been capable to perform a left turn in double control with the plane.